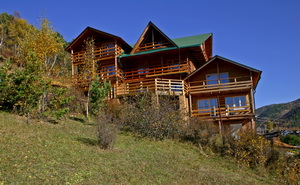 A reasonable price accommodation for inquisitive travellers at lake Baikal, "BAIKAL CHALET LISTVYANKA" is built in the traditional Russian wooden architecture style. It is situated in Listvyanka settlement, 750-800 m up valley from the lake, surrounded by gardens and cabins of the local people. A spectacular view to the Lake Baikal's blue mirror opens from windows of the lodge. Lovely heels with silver birch, pines and larch trees start beyond our garden. It's a great place to admire the outstanding nature of the greatest lake, feeling real Russian countryside atmosphere.
Listvyanka is an old-style Siberian village, situated at the source of the Angara river, the only outlet of Baikal. The history of the settlement starts in the early 18th century, when a ferry took exploreres and merchants across the lake on their way to Mongolia, China and the Far East. Village is relatively overdeveloped, with a tourist-oriented fish and souvenirs markets, picnic areas and a plethora of cafes.
You may take a look at our 7 to 10 day Tour Packages covering the most picturesque Baikal sites, interesting activities, famous destinations for more than reasonable money. It includes the Russian visa support, transfers if needed, train tickets to Baikal, accommodation at the lake and optional excursions on your wish.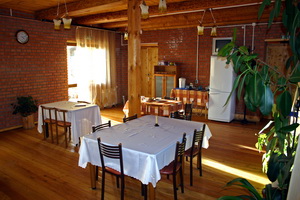 "Baikal Chalet" is a good quality and budget friendly accommodation open all year around. There are thirteen comfortable twin rooms with WC, bathroom, hot and cold water. Breakfast is included and on your wish traditional Siberian lunch and dinner, with Baikal omul fish, are served. Spacious dining room and a balcony welcome you for a cup of tea or a sit outside with a great view to the lake. The harbor, bus station, cafe, souvenir shops, restaurants and pub are in 10 minutes walk from the lodge. The friendly staff will support you with tourist information and help to organize your activity around Listvyanka. You can also look through or buy maps and post cards.
Good discounts from October to April. Enjoy our hospitality and you always welcomed !

Address : Listvyanka, 75 Gudina str. One hundred meters north from the Listvyanka harbor and the bus station along Baikal, left turn and 800 meters up the street.
To get to Listvyanka from Irkutsk you need to get to the bus station of Irkutsk city. The regular public bus leaves at 9.00am, 2.30pm, 4.00pm and 7.00pm. There are also minibuses taking people to Listvyanka, departing from the bus station every 30-40 minutes. You need to find platform #3 and the bus with the blue lake Baikal sign and "Listvyanka" written on it. Or you may just ask somebody for "Listvyanka ??" and follow the instructions.
In summer time, there are public hydrofoils, leaving to Listvyanka and Bolshie Koty daily at 9.00am and at 2.00pm from Raketa jetty, Solnechniy district, up from the city dam of Irkutsk.



Rooms

"Baikal Chalet Listvyanka" is a 3-floor cabin in Russian country side style, built in 2004 out of Siberian pine-tree logs. Chalet has thirteen comfortable twins. All rooms with WC, shower cabin, hot and cold water, the view to the lake Baikal. Breakfast is included and on your wish traditional Siberian lunch and dinner, with Baikal omul fish, are served.

Additional services include laundry, Russian traditional sauna (banya), barbecue parties. In the town one can rent bycicles, quodes, enjoy walks or boat trips at the harbor, visit the Baikal museum with aquarium, watch the baikal fish and seals, go for a scuba diving in the divecenter. The Winter most famous activities are dog sledding, downhill and Xcountry skiing, skidoo tours.